Eze-Breeze Sliding Panels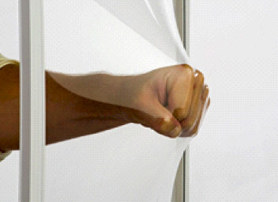 What are Eze-Breeze sliding panels? Eze-Breeze panels act like a regular screen for a porch or gazebo accept are made of vinyl glazed panels that are remarkably strong, shatter proof and flexible. They allow cool breezes in while keeping bad weather and bugs out.

Our clients have been very happy with this product. They like the ease of use along with the custom options available. The panels are uniquely designed and come in various colors and options. The vents slide either vertically or horizontally or can be stationary to allow for an incredible floor to ceiling view.

While closed, they allow protection from the summer sun or changeable weather. They can be effortlessly raised or lowered to open 3/4 of the window area or can be removed to allow the breeze to come through. The panels tilt in for easy cleaning and can be removed for storage. The strong vinyl glazing used is lighter in weight and less expensive than glass and comes in clear or tinted to reduce solar heat.

Eze-Breeze panels can also be easily installed on existing porches. Call us at 301-443-5217 or email us at HNHDeckandPorch@aol.com if you are interested in installing this product.
| | |
| --- | --- |
| Check out the brochures for more info. | |